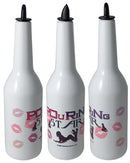 Description
We've got the bottle opener, we've got the shaker, and now we have the flair bottle to make your package complete. All you ladies out there... add a little "Pourn" to your flair show!

This bottle is available in 2 styles, the "Original" Branded Flair Bottle and our own "Practice" Flip Bottle, made of the same great quality and weight.
Payment & Security
Your payment information is processed securely. We do not store credit card details nor have access to your credit card information.