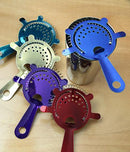 Description
These Candy Coated 4 prong Strainers have a rich, ultra-shiny color finish that is both stylish and durable. Available in gold, red, black, purple, white, teal and blue. We also have matching cocktail shakers and bottle openers!

The bar tools of the trade are part of the most common set of accessories used by all bartenders. Used with large to medium and large cocktail shakers (a.k.a. tins, cheater tins, boston shakers) and mixing glasses, they're used to keep ice strained while pouring chilled cocktails and liquors while providing a steady flow. Made from stainless steel with a colored powder coated shiny finish and easy to operate, they're the favorites of professionals as well as beginners.
Payment & Security
Your payment information is processed securely. We do not store credit card details nor have access to your credit card information.