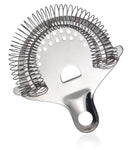 Description
The One Prong Strainer, also known as a wire strainer or cocktail strainer, features an over-sized head for a tight fit that moves the coils closer together to make for a superior strain.
A strainer is most commonly used with a
28oz shaker, 16oz shaker
, or a
mixing glass
to strain fluid away from ice while pouring into a glass. Constructed with professional grade stainless steel.
Product Summary:
Single prong makes cocktail strainer easy to use
Sits on top of shaker or mixing glass and has notch on top that allows you to stably hold it
Features short handle that doesn't get in the way, but still allows tool to be hung
Made of high quality stainless steel
Additional Info
Care
Payment & Security
Your payment information is processed securely. We do not store credit card details nor have access to your credit card information.