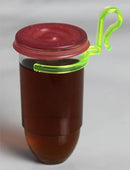 Description
SHOTZ® Bullet Shot Cups are a great way to boost shot sales in your bar or club. Shot Girls and Servers will love how easy these shots are to carry and sell. Bullet Shot Cups come with handy lids for easy transport. Plus they were create to look like an actual bullet, so customers will love that it is not just another boring shot glass. These are the latest idea in "shooter-ology" and can be mixed, filled, and chilled the night before and stored "locked and loaded".
SHOTZ® Bullet Shots are a better disposable shot cup then other throw away glasses. Give your customers what they want and they'll come back for more. The larger 1 ounce (1 1/4" Diameter x 2 1/2" height) SHOTZ® is perfect for disposables. Furthermore, SHOTZ® are styled after a hollow point bullet, flattened at the tip so they can stand freely on their own. This makes SHOTZ® a legal solution in states and countries that have banned drinkware that does not stand up. Our economical price includes assorted "glow in the black light" neon caps.
How about a "Shot on the Side"? SHOTZ® Clips are our NEW SHOTZ® PRODUCT, the perfect accessory for these Bullet SHOTZ® Cups when running promotions and specials in bars, restaurants and other venues that serve alcohol! A great way to UPSELL your drink orders!
Summary
SHOTZ® Bullet Shot Cups hold 1 oz
SHOTZ® Dimensions: 2.5" Tall 1.25" Diameter
Great way to increase shot sales
Come with lids for easy transport
SHOTZ® cups have flat bottoms that allows them to stand up freely
Available Options
Bag of 100 Shot Cups and Caps
Case of 1000 Shot Cups and Caps
Additional Info
Cap color will be chosen randomly for bag of 100
Separate bags with all 5 assorted colored caps come with case of 1000
Payment & Security
Your payment information is processed securely. We do not store credit card details nor have access to your credit card information.