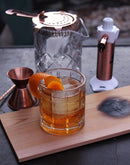 Description
PLEASE NOTE: Due to a high demand on this kit, the "Rose Colored Culinary Torch" may be substituted with a different color, most likely black

Create the ultimate Smoked Cocktail with this high quality old fashioned cocktail kit! It has everything you need to mix your cocktail in style. The Diamond Pattern mixing glass is the perfect size to create this flavorful cocktail in. We have also included a copper measuring jigger and bar spoon, so you'll always have the right portions. Use the torch to burn the cedar plank and then put out the flame with the glass you plan on serving your cocktail in. The wonderful smell of the burnt cedar board will fill and flavor the glass. We love the Ice Block Rocks Glass or the Diamond Cut Rocks Glass (Glasses sold separately).

This smoked old fashioned kit makes a great gift for any whiskey or bourbon lover that wants to take their mixology skills to the next level. Everything in the kit is designed so you can create the ultimate Smoked Old Fashioned every time. Your friends and family will certainly be impressed when served these at your next gathering or dinner party!

Note-Please proceed with caution when burning wood in-doors. Do not light around flammable materials that may easily catch fire.
Includes
1 xBarConic® 22 oz Diamond Pattern Mixing Glass
1 x Newport Culinary Torch - 5.5" Mini
1 x Peychaud's Cocktail Bitters - 5 oz.
1 x Flavored Plank Board
1 x Double Sided Jigger - 1 oz. x 2 oz.
1 x BarConic® Bar Spoon with Disk - 11"
1 x BarConic® Four Prong Strainer
Butane Not Included
Smoked Old Fashion
2 oz Whiskey
0.5 oz. simple syrup
4 dashes of bitters
Orange zest/peel
 Cedar plank
 Mix whiskey, simple syrup and bitters in mixing glass
 Burn cedar plank to smoke, cover smoke with empty rocks glass allowing smoke to fill glass. Turn smoked glass upright and add ice sphere to glass
Pour bourbon blend over ice. Twist orange peel to release oils and rim glass with the peel
Add peel to the drink and enjoy
Payment & Security
Your payment information is processed securely. We do not store credit card details nor have access to your credit card information.