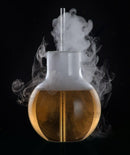 Description
This high-end spherical cocktail glass will bring a fun and interesting aesthetic to any of your craft cocktails. As a bartender or master mixologist you can create true works of art by using this glass to create amazing craft drinks. The large 300ml size allows for more creative mobility in drink color, drink to ice ration, and garnishes that can do inside the glass.
Features
300 ml capacity
Made of glass
Spherical presentation
Fun and interesting aesthetic
Payment & Security
Your payment information is processed securely. We do not store credit card details nor have access to your credit card information.