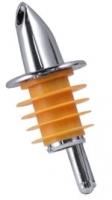 Description
Bottles with oversized necks can leak if the pourer being used is too small. These Spill Stop Square Pourers with XL Cork are designed to snugly fit in oversized bottle necks, like many 1.75 liter bottles. They also feature a screen to prevent bar flies and other items from getting into your liquor bottles. These Liquor Pourers are made from plastic, so they will never rust, and are perfect for outdoor bars. Stop leaking your profits from Liquor Pourers that are too small, and get these Spill Stop Square Pourers with XL Cork for all your bottles with oversized necks.
*Available in 6 popular colors
Payment & Security
Your payment information is processed securely. We do not store credit card details nor have access to your credit card information.