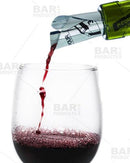 Description
These flexible wine pourers are all the hype these days! They are designed specifically to fit the neck of almost any wine bottle. These foldable wine pourers prevent drips and spills whether you are serving up a glass or red wine or white. Say goodbye to those embarrassing red wine stains! The reflective, mirror finish also adds a touch of elegance to your wine bottle when serving. They also feature a handy instruction guide printed on one side of the pourer!
Flexible wine pourers stop drops and are so easy to use! Simply roll the outer edges of the flat circular piece inward, creating a cylindrical pourer that slips securely into your wine bottle. These drip-free wine pourers are food safe, easy to clean and reusable!
NOTE: These wine pourers are handwash ONLY and are NOT dishwasher safe.
Features
Handwash ONLY
Food-safe pourer
Flexible / foldable wine pourer
Fits almost any wine bottle neck size
Reflective mirrored finish gives wine bottles a touch of elegance at an affordable price
Payment & Security
Your payment information is processed securely. We do not store credit card details nor have access to your credit card information.