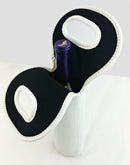 Description
Looking for the perfect gift and/or way to transport your favorite wine bottles safely from one holiday party to the next? Not only do these wine totes offer a superior bottle protection and convenient toting utility... but they are also adorable! Choose from several "ugly sweater" designs along with popular Christmas messages, you will certainly be the star of the party.

These custom printed wine totes also make for an awesomely unique gift idea! Buy several at a discounted price and slip a wine bottle into them to hand out for the holidays to your favorite wine enthusiasts... they will love it! These wine totes are well built from a high quality (semi-stretchy) neoprene material that will keep your wine bottles snug and cold for extended amounts of time. The designs showcase a full color, vibrant imprint on both sides of the tote.
Features
Measures 15.75" height
Constructed from a high quality, semi-stretchy neoprene material
Will keep your wine bottles safe, cold and snug for duration of your travels
Fits all standard sized (750 ml) wine bottles
Full color custom design makes for a unique gift idea
Payment & Security
Your payment information is processed securely. We do not store credit card details nor have access to your credit card information.