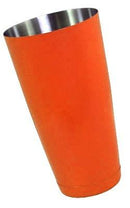 Description
These 28oz Powder Coated Shakers are neon colored and belong to our "Irregular" collection of shakers as these particular shaker tins feature size variations from our standard 30oz shaker tins that are 93mm across the rim and 175mm tall. Most of these tins measure roughly 32oz with 96mm across the rim and 180mm in height. The irregularity of these shakers allow for us to sell them at a highly marked down price so take advantage of them while supplies last!
Note: These products are sold as-is, and vary greatly from one to the next. They product image in this listing is NO indication of the product you will receive. We only guarantee that the product is usable.
Features
Irregular sizes
Powder coated neon color
Colors may vary from images
Stainless steel shaker tin
Discounted pricing
Only available while supplies last
Payment & Security
Your payment information is processed securely. We do not store credit card details nor have access to your credit card information.