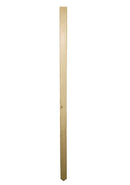 Description
Exit Arrow Signs allow your guests to quickly find their way out. These signs are hand crafted in the USA, and are available in right or left directions. This wooden sign is great for doorways, paths, parking garages, and more.
Summary
Great for parking garages, hallways, doorways, and more
Arrows can be angled in any direction
Arrows can be mounted to wall or wooden sticks
Designs available in left or right direction
Hole is pre-drilled in center of arrow for hanging
Images are transferred using our permanent Kolorcoat™ printing process
Additional Info
Arrow Dimensions: 16" x 3.5"
Stick Dimensions: 47.75" x 1.5"
Made of real wood
Handcrafted in the USA
Each arrow comes with 1 screw
Care
Arrows do not come attached to stick (sold separately)
Payment & Security
Your payment information is processed securely. We do not store credit card details nor have access to your credit card information.