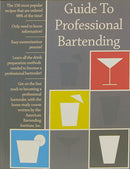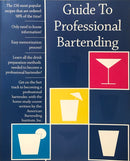 Description
Get on the fast track to becoming a professional bartender, with the home study course written by the American Bartending Institute, inc. In this small, easy to read manual you will learn...
The 156 most popular recipes that are order 98% of the time.
Only need to know information.
Easy memorization process.
All of the drinks preparation methods
This home study course was created in order to provide aspiring bartenders the essential knowledge and information required to successfully work as a bartender. This book is what we feel the easiest learning program available to catapult you into a career as a professional bartender. 106 page soft cover handbook with room to take your own notes.
With the help of this course you will hopefully learn the basic drink groups, the different liquors, liqueurs, mixers, glassware, barware, bar set-up, beers, wines, shaking, stirring, straining and everything else required to become a professional bartender. All of this might sound intimidating; rest assured that this book has gone to great lengths in order to simplify the process.
Payment & Security
Your payment information is processed securely. We do not store credit card details nor have access to your credit card information.