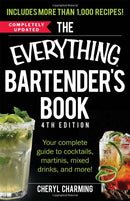 Description
Velvet Kiss, Maui Breeze, The Perfect Martini.... Even if you don't know your swizzles from your shooters, you'll be mixing cocktails like a pro in no time with The Everything® Bartender's Book, 4th Edition. Designed for mixologists of every skill level, this handbook boasts more than 700 recipes for all the classic and fashionable shots, cocktails, and punches.
The Everything® Bartender's Book, 4th Edition reveals the secrets that every great bartender should know. So don your bartender's apron with confidence and say, "The bar is open!"
You'll also learn how to:
Master bartending basics
Choose and use glassware, mixers, and tools
Cure nasty hangovers
Wow 'em with bar tricks and jokes
Payment & Security
Your payment information is processed securely. We do not store credit card details nor have access to your credit card information.