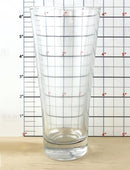 Description
The BarConic® 12.5 ounce Liberty™ Pilsner Glasses are ideal for serving beer, because the flared-sides help to fully release the flavors of the beer. Liberty™ Pilsner Glasses are made to compliment your guests' beers, and are priced more affordable than our competition. BarConic® is dedicated to providing high quality glassware for bars, restaurants, and hotels.
Summary of Highlights and Features
Flare-sided designed Pilsner Glass
Also works for serving cocktails
Releases the full flavor of beer and cocktails
BarConic® strives to beat all competitors' prices
Additional Info
Capacity: 12.5 ounces
Height: 6.5 inches
Top Diameter: 3 inches
Base Diameter: 2 inches
Case Weight: 39.1 lbs
Case Dimensions: 17.5" x 13.4" x 14.2"
Care and Instructions
Payment & Security
Your payment information is processed securely. We do not store credit card details nor have access to your credit card information.