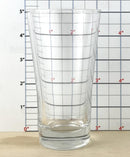 Description
BarConic's® Liberty™ line of glassware is a premium line of glasses for high-end bars and restaurants. The BarConic® 8.5 ounce Liberty™ Highball Glass features a flared rim for releasing the full flavor of your premium cocktails. Liberty™ Highballs can also be used as small Pilsner Glasses, because the size and shape of this glass make it great for serving beer samples. BarConic® is a top of the line glassware line, at economical prices.
Summary of Highlights and Features
Sleek premium design
Also referred to as High Balls or Hi-Balls
Flared rim for releasing the full flavors of your drinks
Can be used as Small Pilsner for Beer Sampling
Additional Info
Capacity: 8.5 ounces
Height: 4.85 inches
Top Diameter: 2.75 inches
Base Diameter: 2 inches
Case Weight: 40.5 lbs
Case Dimensions: 16.1" x 11.8" x 16.7"
Care and Instructions
Payment & Security
Your payment information is processed securely. We do not store credit card details nor have access to your credit card information.