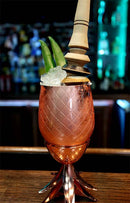 Description
A traditional Mexican design dating back to the 1700's, this Molinillo Stirrer has transcended from frothing up Mexico's inventive Hot Chocolate to presently stirring and mixing many types of beverages, namely craft cocktails. This handcrafted wooden bar tool showcases a ethnic and exotic design, appealing to many types of mixologists. If you are looking for a new addition to your bartending showmanship, then consider this timeless Molinillo Mixer.
Features
Measures 12.5" Length
Material: Handcrafted Wood
A traditional, ethnic Mexican design
Ideal for mixing, frothing and stirring craft cocktails
Payment & Security
Your payment information is processed securely. We do not store credit card details nor have access to your credit card information.