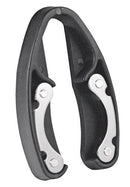 Description
This small and handy wine foil cutter features two sharp metal blades for efficiently cutting the foil off for quick and clean wine serving. The metal blades used to cut the foil are sharpened for precision but protected for safety by the black plastic body design. This foil cutter is great for a busy bar that needs to quickly and efficiently remove the foil from wine bottles, ready to be opened.
This wine accessory measures 1.5 x 3 inches, making it an easy yet indispensable tool for wine lovers and servers.
Features
Small and handy for foil removal
Built for efficiency and safety
Easy to clean
1.5 x 3 inches
Payment & Security
Your payment information is processed securely. We do not store credit card details nor have access to your credit card information.