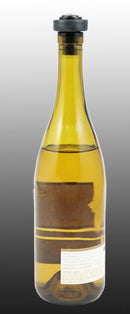 Description
Never drink stale wine again! Prolong the life of your wine by sealing your open wine bottles with this Deluxe Vacuum Pump and push button style wine stoppers. The pump works by extracting air from opened bottles to slow down the oxidation process and keep wine fresh for 7 to 10 days. The pump is easy to use, using your hand to manually vacuum pump the wine bottle with stopper once opened. When you are ready to open the bottle again, simply pull the wine stopper out and pour.
Now you can keep unfinished wine bottles for a week or more without worrying about the wine spoiling. All pieces are easy to clean by hand washing. Includes two push button wine stoppers, additional stoppers are sold in 2-packs.
Summary of Highlights and Features
Keeps wine fresh for 7 to 10 days
Includes Vacuum Sealer and two Push Button Wine Stoppers
Additional Info
Care and Instructions
Payment & Security
Your payment information is processed securely. We do not store credit card details nor have access to your credit card information.